Can I ask you an honest question?
How many of you have had times where there are so many things going on in your head, you just want to.... SCREAM!?
At times I have felt like when I am not "perfect" in everything everyday, I am not good enough. I used to get down on myself that I should be able to do better, be more productive, react better in tough situations. I got mad at myself and thought that somehow I am not a good person if I have a melt down moment in the day or if I messed up and got angry about something instead of showing love.
One thing I have recently learned is that God wants us to trust in Him in these moments. He has given us the grace to get through it, and doesn't call for us to be 'perfect' at all times. Realizing that we are only human allows us to call on His grace and strength to help us become better through Him. One thing that I loved that Joyce Meyers said helped her was that God told her to start:
Thanking Him more, and Thinking less!
(Battlefield of the Mind Series)
In moments of weakness, we can find strength in God's word, His amazing grace and divine love that He has for us. Thanking Him more for all you have done right during the day and all He has done for you will keep your mind in the right place. Thinking less about the downfalls, the 'imperfections', your troubles and worries will help you keep your mind in a healthy state of being.
It will help you gain peace of mind.
In the midst of my less than perfect situations, when I know I need to have faith in my Father and my mind wants to go into worry mode - I stop thinking, and ask for peace.
The best way to stay in peace is to meditate on God's word.
So here I will give you some of my favorite scriptures on peace so that in your times of worry or when your mind is running (like a chicken with its head cut off), you can gain peace in focusing on Christ and His goodness!
Phillipians 4:6-7
"Be anxious for nothing, but in everything by prayer and supplication, with thanksgiving, let your requests be made known to God;
and the peace of God, which surpasses all understanding, will guard your hearts and minds through Christ Jesus."
Romans 5:1
"

Therefore, having been justified by faith, we have

[a]

peace with God through our Lord Jesus Christ,"
John 14:27
"Peace I leave with you, My peace I give to you; not as the world gives do I give to you. Let not your heart be troubled, neither let it be afraid.
Isaiah 26:3
"You will keep him in perfect peace,

Whose mind is stayed on You,

Because he trusts in You."
John 16:33
"These things I have spoken to you, that in Me you may have peace. In the world you will
[a]
have tribulation; but be of good cheer, I have overcome the world."
Romans 8:6
"

For to be carnally minded is death, but to be spiritually minded is life and peace."

Psalms 55:22
22
Cast your burden on the

Lord

,
And He shall sustain you;
He shall never permit the righteous to be moved.
I truly hope these scriptures help you to keep your mind focused on higher things above! Trust in God at all times :)
Cream cardigan - Heartbreaker
Blue Crop Tank - Heartbreaker
Chambray Skirt - Thrifted
Brown Booties - Steve Madden
On another note, this outfit concludes my series on the chambray skirt mix up! I kind of fell in love with this skirt for the past month! I hope you all didn't get sick of seeing it :)
Let Your Light Shine Thursdays!
Thanks so much for all of you that linked up last week!
Me and Aisha over at
True Soul & Spirit
loved seeing all of your posts!
Our favorite from last week's link-up was from
Jenessa Sheffield
. This gal has awesome style and is great for makeup inspiration as well! Check her out!
Thanks again for all of you who participated! Now it's time to link up again :)
RULES:
1.
Link up your favorite post this week - It can be related to faith, fashion, food, family, or whatever else you would like to share that helped you shine your light from the week!
Don't worry if you don't have a blog to link up - just leave a comment with how you let your light shine this week!
2.
Follow
I'm Perfectly Human
&
True Soul & Spirit
on Bloglovin, or any other social media outlet (FB, Twitter, Instagram, or GFC)
3.
Link back by using the button above or your own link.
4.
Visit other blogs and meet new blogger friends!
Each week we will be choosing our favorite posts to feature and share with you all!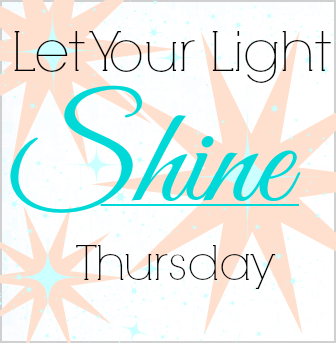 linking up: Funday Monday, Creative Monday, Monday Bloom, Style Sessions , Trend Spin, I feel pretty, What I Wore, Tucker Up, Your Whims Weds, Totally Posted Tuesday,, Three for Thursday, Fav Fashion Friday, Look what I got, Tre Chic, Working Girl Working Style,, *All about you, Simply Lulu Style, Weekend Wind Down, Weekend Blog Hop, Stylish Saturday, Mix it Mondays, Monday Musthaves,