Happy Friday!
Hope everyone is ending the work week on good foot!
I know I am :) I am going to get in on the Five on Friday link-up this week.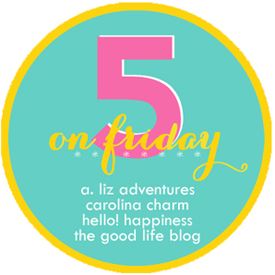 one.
I've been so up and down in my feelings this week. But today I am declaring to choose Joy.
What will you choose?
two. I am excited to hang out with my mom and sisters tonight for my birthday dinner! We will be living it up at our fave Mexican restaurant. Cool, edgy, dive type of place - Lil' Tijuanas. Enchiladas here I come. Um, can someone say fried icecream as well? That's definitely got my name written all over it.
three.
I'm obsessed with my new cell phone case. Yes, if you read my birthday wishlist,
here
, you would see I need a new case. My girlfriend,
Aisha
, got me one for my bday.
How can you not love teal or sparkles!?
four.
This little peanut. She melts my heart on a daily basis.
Never knew motherhood could feel so good :)
five.
Happy that its spring! But can we get some spring weather with this time of year? I just want to go outside - smell the fresh flowers and be carried away for a minute!
Is that too much to ask for?
I'll settle for this photo instead...
Ahhhh, that was refreshing!