This week is flying by. I am back to the working world and although it has been hard, it feels good to be back in the swing of things.
Three things that I have noticed since going back to work:
1) I talk to a baby too much, I find myself wanting to coo and make random noises at work. This can make other adults uncomfortable. LOL.
2) My priorities have definitely shifted, I am checking up on my girl a few times during the day. I'd rather look at pictures or videos of her than go on Instagram. Who am I? LOL.
3) Work is becoming is my new "me time," super weird but its my new Jena time! I can now partially understand why mothers are eager to go to work some days. Its like designated time to be you. I can listen to music all day and enjoy reading a magazine - with no interruptions. Well, except maybe a meeting.
For my latest 4:23 post I have chosen the book of Mark. If you are wondering what I am referring to check out my recent post
here
.
"If any man has ears to hear, let him hear."
-Mark 4:23
Now most people have ears.
But, do we really listen?
Do we really hear when God is trying to tell us something or talking to us?
Or when He is trying to guide us?
Are we willing to receive and do we comprehend our answer?
Hearing and understanding go hand in hand.
Sometimes we are so caught up in our problems or worries that as we pray and ask God to show us a sign or show us something - we are not listening to His answer!
I truly believe that God uses many different ways to get our attention or give us His answers to things. He could send a friend to tell us something, He could point it out in something we are reading, He can bring it into our mind/spirit; maybe in the nature around us, or even our favorite TV show. He can do it however He wants to show it to us. However He knows it will reach us.
Often times we don't understand the importance of it, or we miss the meaning because we are just listening naturally and not listening with our spirit man.
I have been guilty of this before!
Have you ever not liked the answer you've received?
What I have learned about God is that sometimes you will not understand why, but He is giving you the absolute best answer and route to go. He's already weighed the pros/cons; done the research; figured it out. Your destination is already written with Him.
I have also learned be careful what you ask for!
God will sometimes make you do a lot of things your flesh will not want to do because you have asked Him for it. But there is often sacrifice to gain good things in the long run. That's why it is so important to put our selfish desires to the wayside.
Brown Button Up - Heartbreaker
White distressed cut offs - American Eagle
Teal Necklace - Persunmall
Gold/Ivory Bangles - Gift from Mom
Brown Wedges - Shopreflection.com - (I am selling these for $15 in my Poshmark closet!)
Sometimes He says I will give 'ABC' to you, but you are technically not mature enough - so I will take you through this way so that when you receive 'ABC' you will be spiritually and mentally more mature and ready to have and receive it.
So, have you ever had a problem with listening?
-------------------------------------------------------------------------------------------------------


Let Your Light Shine Thursdays!
Thanks so much for all of you that linked up last week!
Me and Aisha over at
True Soul & Spirit
loved seeing all of your posts!
Our favorite from last week's link-up was from Lindsey @
High Heels & Training Wheels
and her DIY post on trying a honey based "No Poo" Shampoo :)
Thanks again for all of you who participated! Now it's time to link up again :)
RULES:
1.
Link up your favorite post this week - It can be related to faith, fashion, food, family, or whatever else you would like to share that helped you shine your light from the week!
Don't worry if you don't have a blog to link up - just leave a comment with how you let your light shine this week!
2.
Follow
I'm Perfectly Human
&
True Soul & Spirit
on Bloglovin, or any other social media outlet (FB, Twitter, Instagram, or GFC)
3.
Link back by using the button above or your own link.
4.
Visit other blogs and meet new blogger friends!
Each week we will be choosing our favorite posts to feature and share with you all!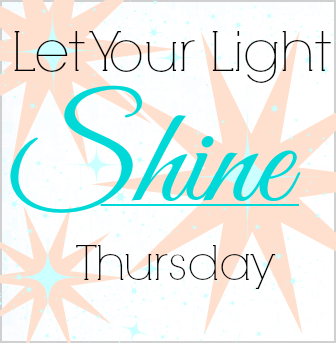 linking up: Funday Monday, Creative Monday, Monday Bloom, Style Sessions , Trend Spin, I feel pretty, What I Wore, Tucker Up, Your Whims Weds, Totally Posted Tuesday,, Three for Thursday, Fav Fashion Friday, Look what I got, Tre Chic, Working Girl Working Style,, *All about you, Simply Lulu Style, Weekend Wind Down, Weekend Blog Hop, Stylish Saturday, Mix it Mondays, Monday Musthaves,I am Mrs K; Her & Nicole, Hump Day, Whit Nic James,
Manic Monday, Manic Monday, Stylish Tuesdays, Transatlantic Blonde, Fashion Informant, What I wore to work, Stylin in St Louis,
Sunday Style