Have you ever been in the middle of a thunderstorm?
Most people love the sound of rain. It makes them want to curl up and stay in bed all day! As a little girl, I hated storms. The rumbling of the thunder and and rain pounding down on the house would always make me want to hide under the blankets until it was over. What I think is so amazing is that after a really bad storm the sky tends to clear up and shows us a beautiful mix of colors that we don't usually get to see. Signaling, everything is okay! It's a new beginning!
We can relate this to life's storms.
Sometimes the thunder and rain sounds so bad, and we just don't see the sun on the other side. But if we hold on and keep the faith, those problems that look like mountains can be moved. We can get through life's storms. We can accomplish anything. We have to hold on, believe, and have faith in God's word to see us through.
And it doesn't take much faith to do that...
And Jesus said unto them, Because of your unbelief: for verily I say unto you, If ye have faith as a grain of mustard seed, ye shall say unto this mountain, Remove hence to yonder place; and it shall remove; and nothing shall be impossible unto you.
-Matthew 17:20
We have to remember that faith can and will move mountains.
To inspire you all - I've created my first FREE printable.

Who doesn't like FREE?
Well, What are you waiting for?
Let Your Light Shine Thursdays!
Thanks so much for all of you that linked up last week!
Me and Aisha over at
True Soul & Spirit
loved seeing all of your posts!
Our favorite from last week's link-up was from Oby @
I Spy Oby
and her printed Nike leggings!
Thanks again for all of you who participated! Now it's time to link up again :)
RULES:
1.
Link up your favorite post this week - It can be related to faith, fashion, food, family, or whatever else you would like to share that helped you shine your light from the week!
Don't worry if you don't have a blog to link up - just leave a comment with how you let your light shine this week!
2.
Follow
I'm Perfectly Human
&
True Soul & Spirit
on Bloglovin, or any other social media outlet (FB, Twitter, Instagram, or GFC)
3.
Link back by using the button above or your own link.
4.
Visit other blogs and meet new blogger friends!
Each week we will be choosing our favorite posts to feature and share with you all!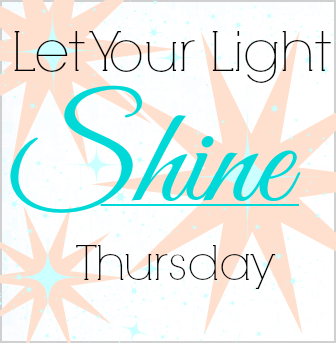 linking up: Funday Monday, Creative Monday, Monday Bloom, Style Sessions , Trend Spin, I feel pretty, What I Wore, Tucker Up, Your Whims Weds, Totally Posted Tuesday,, Three for Thursday, Fav Fashion Friday, Look what I got, Tre Chic, Working Girl Working Style,, *All about you, Simply Lulu Style, Weekend Wind Down, Weekend Blog Hop, Stylish Saturday, Mix it Mondays, Monday Musthaves,I am Mrs K; Her & Nicole, Hump Day, Whit Nic James,
Manic Monday, Manic Monday, Stylish Tuesdays, Transatlantic Blonde, Fashion Informant, What I wore to work, Stylin in St Louis,
Sunday Style