Happy Thursday!
This morning I am feeling inspired. See, I have been saying that I need to kick it into high-gear as I've got a wedding coming up in July. Yes, and I just had a baby. Yes. I've found that my time has diminished, and my "me time" has completely disappeared. But I remember seeing my mom do it all when I was a kid! How did she do it?
So, although a week late - I am going to be starting the Tone It Up 2014 Bikini Series on Monday.
#TIU #Bikiniseries
I started following Karena and Katrina over a year ago and absolutely love what they stand for. I thought it was awesome that they offered free workout videos on YouTube - which is what originally got me hooked to the Tone It Up girls! They are pretty awesome trainers! I love how they encompass being confident in who you uniquely are and loving your body and yourself!

It's so important to manage our bodies well and put good things into them! Its also important to have a vision in life. So in visualizing where I want to be on the first day of summer, which is one of the first things I have to do in the Bikini Challenge - I visualize myself on a beach - although I will be in Minnesota.. So let's say a beach at one of our 10,000 lakes ;) AND I'll just be realistic and say that I'm likely chasing Baby Grace around and grabbing sand out of her mouth! HAHA!
I've got to hit the grocery store and make a few changes in the eating department. I know this will also help as I am still nursing baby Grace. Which is another reason I wanted to be better about what I'm eating. I am also interested to see what it will do for my joint pain. I have read about certain foods helping with inflammation which I am excited to try and report back to you!


My sister has a recipe for a pretty good green smoothie - that I will need to ask her for!
When I try it, I will have to let you all know how it was.
Have you ever tried a green smoothie?
What did you like about it?


So, anyone interested in starting with me on Monday?
If so, you can sign up for FREE
here
.
Send me an e-mail and we can encourage each other on our journeys!!
I want to include a FREE printable that goes along with the love your body message today!
Download below!
Let Your Light Shine Thursdays!
Thanks so much for all of you that linked up last week!
Me and Aisha over at
True Soul & Spirit
loved seeing all of your posts!
Our favorites from last week's link-up are:
Jessi from
Haircut & General Attitude
Bryce Canyon
& Katrina @
Style of A Dream Heart
Weekly Style Report
Thanks again for all of you who participated! Now it's time to link up again :)
RULES:
1.
Link up your favorite post this week - It can be related to faith, fashion, food, family, or whatever else you would like to share that helped you shine your light from the week!
Don't worry if you don't have a blog to link up - just leave a comment with how you let your light shine this week!
2.
Follow
I'm Perfectly Human
&
True Soul & Spirit
on Bloglovin, or any other social media outlet (FB, Twitter, Instagram, or GFC)
3.
Link back by using the button above or your own link.
4.
Visit other blogs and meet new blogger friends!
Each week we will be choosing our favorite posts to feature and share with you all!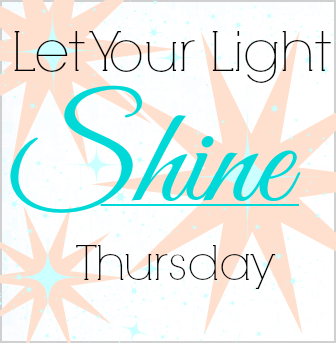 linking up: Funday Monday, Creative Monday, Monday Bloom, Style Sessions , Trend Spin, I feel pretty, What I Wore, Tucker Up, Your Whims Weds, Totally Posted Tuesday,, Three for Thursday, Fav Fashion Friday, Look what I got, Tre Chic, Working Girl Working Style,, *All about you, Simply Lulu Style, Weekend Wind Down, Weekend Blog Hop, Stylish Saturday, Mix it Mondays, Monday Musthaves,I am Mrs K; Her & Nicole, Hump Day, Whit Nic James,
Manic Monday, Manic Monday, Stylish Tuesdays, Transatlantic Blonde, Fashion Informant, What I wore to work, Stylin in St Louis,
Sunday Style